Interior Color Trends 2025
Color plays an important role in interior design. Any shade can completely transform a room – set the tone, mood, atmosphere. It can also create the illusion of space or make a room seem smaller than it really is.
Interior color trends change over time. Every year, major paint companies such as Sherwin-Williams and Pantone introduce their "Color of the Year" and interior designers use them to create beautiful kitchens, bathrooms and living spaces.
But where do color trends come from? Who decides what color will be fashionable?
Colors in the interior are highly dependent on fashion trends . In fact, most of the design trends include colors, materials and finishes, drawing on fashion trends that have come from the haute couture capital, Milan.
Here are some of the color trends 2025 to look out for in the interior design world.
The most popular interior color trends 2025
Champagne
Champagne is expected to become one of the most powerful trends of the year. And if you think this color is boring, think again.
Champagne replaces the cool grays that have dominated interior design for years. This beige, natural color fills the room with more warmth than its gray counterpart. Champagne lends an earthy touch to interiors and creates a soothing environment .
It can be paired with bold textures and materials to make a room more interesting. You can also play this color with metallic accessories like gold or silver.
Dark blue
Navy blue is an enduring (and regal) color that is only growing in popularity. Sherwin-Williams Color of the Year 2025 is a dark, rich, rich blue that is reminiscent of the night sky.
Dark shades of blue pair beautifully with champagne, giving any home a cozy and comfortable feel. You can use it to paint an entire room – which looks amazing in a living room, for example – or use it to create striking accent walls .
Golden yellow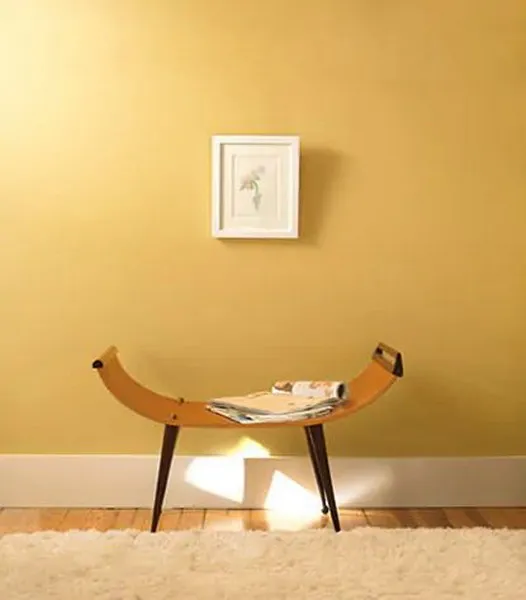 Yellow is the color of optimism and happiness. It will instantly enliven any room , although an excess can lead to the opposite effect. Designers usually use yellow sparingly – mostly as an accent wall .
Intense yellow was popular in 2019, but a more muted golden yellow has replaced it in 2025. This new color trend will add a fresh touch to the room that looks good in nurseries, work areas, bedrooms and living rooms.
Olive green
Green was a popular fashion color at Milan Fashion Week 2019 and we see it a lot in 2025. In particular, olive green will take center stage, mimicking the look of nature.
Light shades of olive green can be used as wall paint both indoors and outdoors. This is a trendy color that brings us back to nature and creates a calm environment .
Light pink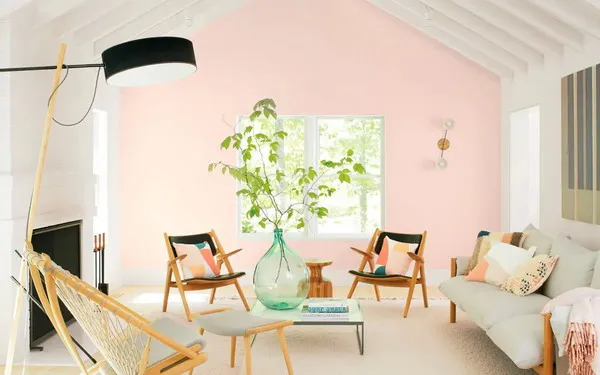 So many different rooms where you can use pink! It is by no means limited to (and should not be) children's rooms. Light pink has become very popular in 2025. Benjamin Moore have announced their "color of the year" – a refreshing and airy shade of pink.
Light pink is a great alternative to white or beige . It can be used in living rooms, bedrooms and even kitchens. It complements any space and harmonizes perfectly with other colors .
Dark red
Dark, rich shades of red and caramel are not just for fall. They were very popular in interior design in 2019 when Sherwin-Williams introduced warm terracotta as their color of the year. Its various shades continue to be popular in 2025.
Dark red adds sophistication and warmth to any room. You can use it as an accent or dominant color . It is easily combined with other shades of red, which creates an enchanting atmosphere.
Carbonic
Dark colors have been trending for quite some time and continue to hold their own in 2025. Charcoal is a luxurious and intimate color that will suit almost any room : bedroom, kitchen, bathroom.
Charcoal can be used for an accent wall or as the main color of a room. It goes well with other shades of gray , adding mystery and depth to the space.
Mango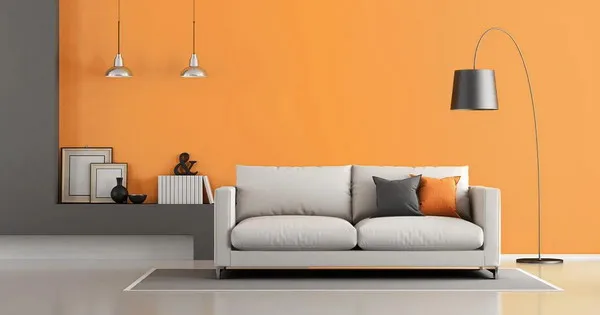 Mango screams fun and energy (and flavor)! It is a fashionable color trend in 2025, rapidly gaining a place in the design scene. And there is a reason for that.
Like most bold hues, mango can be used as an accent color in living rooms or dining rooms. It is also wonderfully applicable to room accessories – pillows, throws and armchairs – all will do. They freshen up the room and details matter.