Interior Design Trends 2022: Our Predictions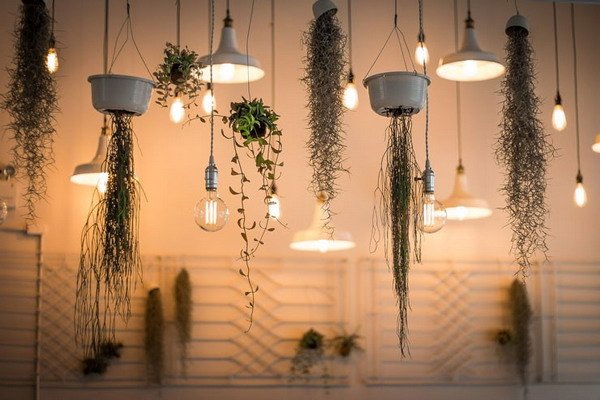 It's that time of year again. As the seasons change and we get closer to the third quarter on our calendar, we start thinking about new interior trends. If we blink too long, it's Christmas before we know it. In January, our New Year's resolutions will be filled with DIY. The wallpaper repair you had in mind? The tired living room furniture that you hate? Or the new coat of paint you keep talking about? It is time to put the plans into action.
To inspire you to beautify your home for the next year, here are our predictions for interior trends in 2022. From great yet familiar colors to wallpaper designs that are really "out there", interior decorators can look forward to so much looking forward.
Gray WILL stay
As a constant trend, the color gray remains a strong choice for decorating the home. It looks stylish in any room and is not just limited to gray wallpaper or wall paint. Gray furniture makes its appearance too, and layering different shades is an interesting way of using this lovely, heavenly hue.
This Wall Decal Neutral Swirls combines warm gray tones with cool gray tones for a unique effect. Look out for gray mixes in wallpapers for the next year, because gray-green or gray-blue will become even more popular.
Light wood becomes dark wood
Unlike in previous years, in which light wood was the focus, darker tones could creep in as a furnishing trend in the next year. Dark, lush wood surfaces will convey a sense of upscale luxury and elegance, a grown-up version of the light woods we've come to love so much. But don't just throw yourself into mahogany – be more creative than that. There are so many wood styles and wood finishes that make it onto the 2022 decorating trend list – including gorgeous cocobolo wood or steamed walnut.
This stack of firewood functional wall is an ingenious way to bring a darker mood into a light, white and airy room. Don't you love contrast too?
Plant fibers will be the hottest interior trend in 2022
This comes as no surprise as the boho bedroom trend has made a big comeback in interior design this year. The theme of organic materials and plant-based fibers will continue in the coming seasons. Wicker, jute and rattan will be ubiquitous, and rich textural expression will be the headline.
But that is not all. The hippest homeowners can explore this narrative even further, delving into natural silk upholstery, hemp curtains, or cork walls. As long as it is raw and untreated, it will be welcome in the apartment.
Embrace a splash of purple (just a little)
Not too much that it's retro, and not so little that it's an understatement. The main thing about using the color purple is to be bold. But never bright. Finding your balance can be difficult, but pick a few key pieces to play with and try to be selective with color coordination. Purple is becoming one of the most important interior color trends for 2022, replacing the popular pink tones in 2021.
This wall painting 'Jewels' by Katy Smeets goes very well with a whitewashed bedroom. More cool wallpapers with purple tones are our amazing agate wallpapers.
The best wallpaper will be inspired by nature
Nature calls and we answer with beautiful botanical prints. From quirky fabrics to lush wallpaper, art no longer has to live in a frame. The wallpaper is the protagonist in 2022, and the plants are the supporting artists.
Evoke nature with our collection of botanical murals or exotic jungle wallpapers that are intended to calm, soothe or stimulate creativity. They can even be surreal or fantastic, like this nostalgic cockatoo jungle mural by Andrea Haase which celebrates the natural world with a fun retro twist.
Indoor gardens will bloom in 2022
Indoor gardens are all the rage, and we expect them to become even more prominent over the next year. Indoor plants are heavily advertised as wellness essentials, and as more people focus on inner calm and mental health, miniature gardens will find their way indoors.
The whole thing about nature was already a massive trend, so don't be surprised if your most stylish friend shows off her new wall planters or has succulents hanging from the ceiling.
Art Deco Revival
The choice of material is very important in any Art Deco home. The same ones keep popping up. Copper, gold or stainless steel are used in furniture, mixed with plush fabrics and luxurious prints in the upholstery. Glass and lacquer are also very popular, as are very expensive ebony and marble.
But you don't have to be a millionaire to achieve all of this. Wall finishes like marble can be recreated with beautiful marble effect wallpaper, and a few used art deco pieces of furniture can transform your space into something that looks expensive.
Patterns will be key, especially 3D patterns
As seen at Milan Design Week 2022, patterns are key and everything is becoming multidimensional. If you're not scared of optical illusions and have enough space to experiment, you can spice up your interior with 3D prints and bold geos. Discover our range of classic geometric wallpapers – or try something different with our spiral wallpaper or square pattern wallpaper if you dare!
If you want a modern 3D wall in next year's trendiest color scheme, check out this 'Subtle Tones' mural. Both fascinating and soothing to the soul, this mural brings a touch of contemporary calm to common areas.
Don't Be Vanilla
Purple, gray and green may dominate the headlines. But the design industry also has plenty of time for creamy vanillas, pale lemon yellows and soft champagnes. Vanilla isn't boring in 2022. It's the color upgrade from plain, sterile white.
Don't be cold when creating light and airy spaces. Turn up the temperature and treat yourself to wallpaper tones that are reminiscent of curdled cream or rich custard. This Damask Cream wallpaper wall is the perfect example of how the off-white color trend can be so stylish.
Do you love our design trend predictions for 2022? We are excited to see what our customers are planning to do with their apartment renovations in the next year. Show us your snapshots on social media and tell us your favorite interior design trends for 2022!