Kitchen Trends 2024
New year, new kitchen? Then let yourself be inspired by the kitchen trends for 2024 and give your premises the right momentum.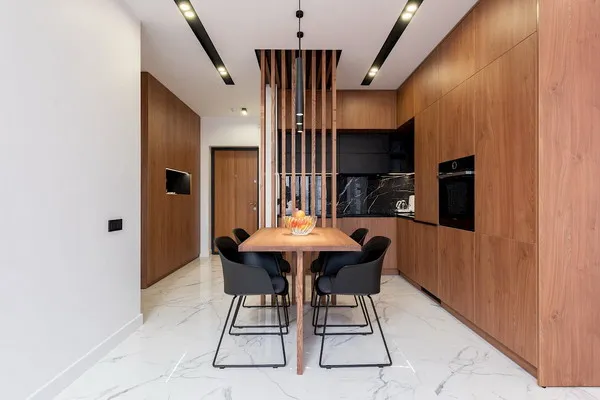 In addition to innovative devices with smart functions, the current kitchen trends are showing dark cabinets, preferably made of wood, bringing the trend color green into your kitchen and bringing practical shelving systems with them. We have taken a closer look at the kitchen trends for 2024 for you and will give you an overview of all the highlights of the year for more comfort, cosiness and appearance below.
Kitchen trends 2024: Dark cabinets
Dark furniture has already found its way into other rooms and impresses here with its unique elegance and noblesse. No wonder that the kitchen is now also presented in dark nuances and at the same time has a charming feel-good character. Because anyone who chooses dark grey, anthracite or black for this 2024 kitchen trend will be rewarded with a stylish ambience that invites you to linger. Instead of being polished to a high gloss, matt surfaces are now popular and bring an additional warm character. Whether cabinets, back walls or worktops, black and co. are a kitchen trend that is here to stay.
Kitchen design trends 2024: Natural materials
Wood conjures up real one-offs from kitchens and, as a kitchen trend for 2024, seamlessly ties in with the topic of sustainability. Above all, the grain of the natural raw material sets unique eye-catchers and eye-catchers in kitchens. In line with the current kitchen trend with dark cabinets, dark wood tones are definitely on the rise. From a dark brown to black, everything is allowed with the current kitchen trends.
Important tip: Make sure to protect natural wood with a varnish or glaze. This increases the service life and you can enjoy your kitchen furniture for a long time.
Kitchen design 2024: Smart kitchen
Smart technology in kitchens is still a big topic in this year's kitchen trends. Intelligent networking and innovative gadgets should also make our work easier with the kitchen trends 2024, save effort, but also energy and costs. Refrigerators come with a large capacity and intuitive displays. Intelligent dishwashers help to save water through low consumption and cooktops recognize pots and pans completely automatically. Even the extractor hood is smartly integrated into the hob with the current cake trends. Many of the devices can also be controlled via apps. Of course, even when you're on the go. It remains exciting to see which technological innovations we can look forward to in the kitchen in the years to come.
Kitchen colors 2024: Green
If you are thinking about a new coat of paint, there is no way around the trend color green when it comes to the current kitchen trends for 2024. The soothing, fresh and natural-looking shade offers numerous possibilities with different nuances. Whether soft pastel green, strong blue-green or Mediterranean olive green, kitchen walls and cabinets cut an excellent figure with this kitchen trend.
Insider tip: combine green with white accents or even black marble. Wooden furniture also offers an attractive accompaniment to shades of green.
Kitchen ideas 2024: Golden accents
The golden age literally begins with the kitchen trends of 2024. Gold provides shimmering accents this year. Whether as decorative elements, handles, patterns on walls or decorated edges, this current kitchen trend brings the "golden years" back to life and creates a very special atmosphere with a touch of luxury.
Kitchen furniture 2024: Functional and versatile shelving systems
The new and open shelving systems create more space in the kitchen as a kitchen trend for 2024. These can be placed flexibly and used in a variety of ways. Hooks, hanging systems and rails can be arranged individually. The concept follows the kitchen trend of open-plan kitchens. But small shelves that can be set up anywhere are also popular in kitchens at the moment. These are used wherever you need them. Herbs are also skilfully staged on the handy mini shelving systems.
Kitchen lighting 2024: Sophisticated lighting
As in previous years, lighting concepts remain an essential part of homely kitchens in the kitchen trends 2024. The aim is to immerse the different work and dining areas in the perfect light in a functional and comfortable way at the same time. The dimmer function and smart LED light sources in clear and warm nuances set the tone.
Kitchen 2024: Terrazzo
The terrazzo look is an extravagant kitchen trend for 2024 and something for the brave. Striking natural stone fragments made of dolomite, marble or sand are mixed with cement during production and thus result in a sophisticated and high-contrast look. Terrazzo panels are the modern kitchen trend for worktops or back walls.
It turns out that the kitchen trends 2024 are based on versatility. But sustainability and natural designs are also coming into focus. Smart devices will continue to be with us in the coming years and will have a permanent place in kitchens in the long term. If you are currently thinking about buying a new kitchen, you should take a look at the latest innovations so that you are well prepared for the future.