Trendy Green Sofa: 6 Interior Design Ideas And Tips On What Goes With It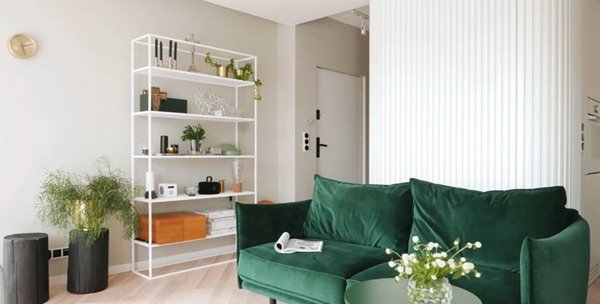 Although lounge furniture in shades of gray is still very popular, green is appearing more and more often. This is hardly surprising, because the color is natural, effective and fascinating and can change the ambience of a room in no time. A green sofa in the living room is an expressive element that makes the interior more interesting and elegant.
In 2022, green, related to nature, is one of the hottest colors – so it's worth thinking about how to use it in decor. What does a living room with a green sofa look like? We have prepared 6 inspirations depending on the furnishing style that will help you to adapt the sofa model to the character of your home.
1. Japandi style living room
The Japandi living trend is characterized by simplicity, elegance and openness. What does it have in common with the Scandi style? Both rely on natural materials, functionality, neutral and warm colors and cozy lighting. The Japandi style is minimalist, casually elegant, but also cozy and calm.
The interior does not interfere with too many decorations or furniture and focuses on a few details. A living room that is reminiscent of Japanese aesthetics therefore appears clean, calm and refined. Is there room for color? Yes of course! A striking green sofa replaces all unnecessary decorations and creates a harmonious contrast between the simple, light colors of the Scandi style and the dark nuances of Japan.
The Nordic furnishing style is a combination of beauty, simplicity and functionality. A Scandinavian living room usually has white or light gray walls, which form the basis for a neutral color palette with individual accents in livelier colors. Natural materials such as wood and stone are used in the furnishings, which bring a touch of nature into the living room. The incidence of light through the window also plays an important role in the feeling of space, which is why curtains are usually not used. When in doubt, choose light gray curtains without a pattern. They always fit.
How does the green sofa go with the Scandinavian living room furnishings? Perfect! Although it is a striking eye-catcher that is in harmony with Scandinavian functionality, it is also a comfortable quiet zone for reading, watching TV or for an afternoon nap. Yellow and gray are the best combination partners for green and, together with white, create a particularly harmonious ambience.
3. A cozy living room with a Scandi-Boho ambience
The Scandi Boho style is a skilful combination of Scandinavian simplicity with elements of the Boho style. The rooms are bright, open and functional, but they are not lacking in bold colors, ethnic accessories and crazy patterns. Snow-white walls and light wooden floors should be complemented with accessories made of wicker, decorative vases made of clay or earthenware should be on shelves, as well as impressive flower pots – e.g. the popular pots in the shape of a head. The interior should be full of green plants and soft textiles, including patterned pillows with interesting structures, decorated with tassels or decorative pompoms.
Boho loves everything that is original, exotic and connected with nature. The modern version of the style usually relies on white, gray, and beige as the base colors, but colorful accessories look great against this backdrop. If you want to add a strong accent to your boho living room with a sofa, choose a piece of furniture in a rich emerald shade that goes perfectly with potted plants. Olive and lime green sofas also look great. If you don't want to create such strong contrasts, choose covers in lighter colors, e.g. B. mint green or sage green.
In a boho-chic living room, the cover of a green sofa should be made of a high-quality material with a pronounced texture. For a more extravagant effect, choose cord. As far as the model is concerned, whatever pleases is allowed – the more versatile, the better. A green sofa from grandmother's time looks just as good as a sofa with stylish quilting or a spacious corner sofa on which the whole family can comfortably sit.
In the boho living room with a green sofa, decorations play an important role. Light-colored pillowcases made of natural fabrics, unusual pillows with ethnic patterns and strongly contrasting pillows in red, mustard or pink look good on a green sofa.
4. Retro living room with green sofa
The retro style usually refers to the design of the 1950s, 1960s and 1970s – what makes it stand out? Strong colors, fascinating patterns, interesting fabric structures and unmistakable furniture. The easiest way to give such an atmosphere to the room is to choose the right colors – the best is bottle green, which perfectly reflects the slightly crazy and original aesthetic of the retro style. Impressive green wallpapers with floral patterns form a fantastic basis to which you only have to add the right accessories – a great idea is to combine different motifs and use original pieces of jewelry from the flea market and lots of green plants.
The retro-style interiors are characterized by extraordinary comfort and a warm character. The furniture plays the main role here, so that the sofa of your choice becomes the focal point of the facility. It should be wide and long and upholstered with the right fabric – to underline the retro character of the living room, it is best to use stylish and soft velor.
5. Green sofa in the loft living room
The loft style is based on minimalist design and economical colors, but that doesn't mean that green sofas are out of place in such a living room. After all, interesting accessories look great on a raw background, and a sofa of a rich color can be one of them. You can opt for an interesting vintage sofa or a high-quality piece of designer furniture – a dark green Chesterfield sofa made of eco-leather is currently a hit.
Functionality is important in a loft-style living room. Therefore, a large green corner sofa with a sleeping function is perfect – choose a model with a simple, geometric shape and let the color come out perfectly in front of a brick wall.
6. Green sofa in an Art Deco living room
Interwar design, which is currently making a comeback, loves sophistication, luxury and a bit of craziness. In an Art Deco living room, a green sofa has the chance to become a real star of the interior. The most spectacular effect is achieved by choosing a large, streamlined sofa, which will be very popular in 2022. The second option is a small, extravagant-looking shell sofa.
The green sofa in the Art Deco living room should be covered with beautiful velvet. You can place two or three decorative pillows in a contrasting color on the seat. For a glamorous effect, place a geometric table made of glass, metal or marble next to the sofa. A living room with a green sofa also needs atmospheric lighting, for example an elegant floor lamp or a fancy chandelier made of glass and metal.