How to decorate an apartment for New Year 2024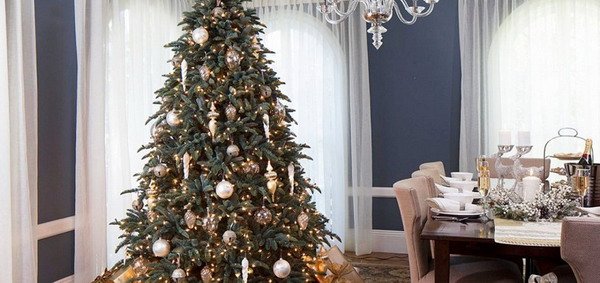 Each of us wants to believe in miracles, and on the eve of the main event, most people begin to prepare for it in advance. The New Year is not an easy holiday, it is considered the beginning of something better and kind, when there is an opportunity to leave behind your mistakes and troubles.
Even if there are no small children in the house, adults want to prepare it and decorate it so that only good things can be believed. A few tips from designers will help prepare an apartment with your own hands for the New Year 2024.
Important steps in creating a festive atmosphere in the house for the New Year 2024
Before you run to the store or order all the Christmas decorations that you like on the site, decide on the design concept. Festive design should complement the apartment, and not make it a set of bright details, which will bring confusion and will literally hurt your eyes with an abundance of color and overflow.
It is also worth revising your decorations: we give pride of place to the old grandmother's toys on the Christmas tree, but what we bought many years ago can be thrown away. No need to feel sorry for old toys and decorations, because buying new ones will bring so much pleasure that the festive mood will come by itself.
We draw up a plan for the design and decoration of the apartment for the New Year 2024
If you want to make a new and original design of your apartment, refer to the Internet, where a lot of design options are offered. But it is worth knowing that not all the ideas of designers need to be adopted and choose only one concept, which should be followed in all rooms.
Decorating the house in one day will not work, so you need to take a sheet of paper where there will be two columns: what we are doing and what accessories we need to buy for this. Most of the elements for decoration can be done by hand, especially if children live in the house, give them scissors and colorful paper and teach them how to cut snowflakes that will decorate windows and interior doors.
For New Year's decoration of the apartment, we pay attention to all surfaces
Every little thing is important in creating a festive mood, because against the backdrop of a Christmas tree with multi-colored garlands, the front door can fade. So why not decorate the surface with a wreath of coniferous twigs with LED lighting and a couple of figures from Santa Claus and the Snow Maiden.
Garlands, holiday inscriptions and calendars are hung on the walls, and in order not to have to make repairs after the celebration and change the wallpaper, it is worth buying cutting needles with a limiter at the end – after such fasteners there will be no traces left.
Cascading LED compositions can be hung on the ceiling, which can be supplemented with homemade snowflakes and figurines, balls and multi-colored ribbons.
Windows can be framed with compositions of fir branches, a garland can be hung, and decorative candles and handicrafts of their children, which they made during the year, can be placed on the windowsill.
The main decoration of the room will be the tree, so all the attention is on its decoration, but it is better to leave the floor free to give enough space for guests to dance and have fun. If you have a delicate coating in the form of a laminate or an expensive parquet board, it is recommended to cover it with a carpet or rug. Firstly, women's shoes with high heels will not spoil the floor, and secondly, you will exclude accidental falls and injuries on a holiday.
We decorate and decorate furniture for the New Year 2024
Even if you are a small fan of small details in the interior, you should pay attention to small New Year-themed pillows that will decorate the sofa and armchairs.
On the festive table, in addition to treats, you can put a small composition of Christmas tree branches, tangerines, sweets and chocolate. Do not forget about the chairs on which guests will sit. Tie a few bows or wrap them with ribbons so that they do not stand out from the general concept of decorating the apartment.
How to decorate the New Year's interior of the apartment and correctly place accents
We decorate the interior with vases of fruit, branches of a Christmas tree and put them on free shelves. Compositions of candles, sweets and tangerines in baskets will look great.
If there are sconces on the wall in the apartment, a floor lamp or a chandelier that is not burdened with closed shades, it is better to replace ordinary lamps with elements in the form of candles with a soft spectrum.
This will create subdued lighting, which contributes to the mood for a miracle and a cozy atmosphere.
How to decorate an apartment for the New Year 2024 in different styles
The design of the room plays an important role in the festive decoration. If the apartment is finished in cold colors, then it makes sense to decorate it once a year with bright tinsel and multi-colored garlands, especially if small children live in the house. But if the consistency of style is the main thing for you in the design, then you should heed the advice of designers so as not to create chaos instead of a holiday.
Plain finishes and wooden furniture can't be matched with an abundance of color, so white will be the dominant color, including the Christmas tree on the floor. To decorate the New Year's beauty, you can disassemble the attic in the country house or in a country house, there will certainly be old things there. It is better to choose toys for the Christmas tree from natural materials, wooden figures in combination with white balls, as well as all kinds of baskets and nests made of twigs with dummies of birds and deer are suitable.
The front door can be decorated with a composition of a dry bouquet, Christmas tree branches, wild berries and cones, painted with silver paint. Textiles on windows, pillows on sofas and a tablecloth on a table with themed ornaments or drawings of deer, bears and snowflakes are great for festive decoration.
Decoration of the apartment for the New Year 2024 in retro style
Perfect for those who miss Soviet childhood. When decorating the table, large crystal vases with tangerines, simple candles and a bouquet of Christmas tree branches with several classic balls will be appropriate. Do not forget about the figurine of Santa Claus and the Snow Maiden made of plastic and the abundance of tinsel, serpentine and homemade snowflakes everywhere.
The main decoration of the holiday will be a Christmas tree up to the ceiling with old toys, children's crafts and diverse decor that has been gathering dust in the pantry for years.
Country style in the New Year decoration of the apartment 2024
Homemade decorations will complement the cozy and warm atmosphere of rustic design. If you have a penchant for embroidery, then winter ornaments on tablecloths, napkins and pillows on the sofa can be done in advance, anticipating New Year's Eve.
In country style, you should not save on greenery and natural materials – bouquets, wreaths and the Christmas tree itself, decorated with berry garlands, cones and wooden figurines, would be quite appropriate. You can also use compositions from a combination of fruits and vegetables, textile ribbons, and even a coarse linen tablecloth can become a "highlight" of a festive decoration.
How to decorate an apartment for the New Year according to the horoscope of 2024
In 2024, the tiger is waiting for us, and it is he who will become the main attribute of the holiday. Figurines of the symbol can be placed everywhere – put on the windowsill and under the Christmas tree, buy a garland with the image of this animal.
The tiger loves gold, silver, bronze and all natural shades, and you should be based on them when buying tinsel, serpentine and jewelry.
Lay a blue tablecloth on the table, complement it with yellow napkins, and in the center you can put a small basket with tangerines, berries and cones, decorated with fir branches.
To decorate surfaces, you can use silver and gold stars, bells, it is advisable to use as many bows and ribbons as possible in your favorite bull shades.
What color combinations can be used for New Year's decoration and apartment decoration
The main shade of the coming year will be yellow, so you can use it in any quantity. It can be the color of tinsel and toys on the Christmas tree, tablecloths and napkins on the table, red candles and garlands. Gold, silver and white decor will be a great addition.
The interior in cold blue tones can be decorated with combinations of white and silver in the form of snowflakes, bells and tinsel. When choosing an artificial Christmas tree, it is better to give preference to products with a silvery sheen, and if the tree is natural, then it is worth decorating it with an abundance of white details.
An apartment decorated in brown tones needs green, pearl and gold. It is desirable that the Christmas tree be natural and decorated with beads and tinsel, transparent glass toys. Do not forget about the cones that can be used in homemade compositions and New Year's wreaths on the front doors and walls.
Brown and sandy colors are successfully complemented by the natural greenery of the Christmas tree and golden decor.
Many people begin to prepare for the New Year since the summer, so why not pick up twigs and cones in a nearby park that will decorate the apartment. Children must be involved in the festive decoration, it is they who can tell parents fresh and unusual ideas on how to transform their home.