Bathroom decoration trends for 2024 that you cannot miss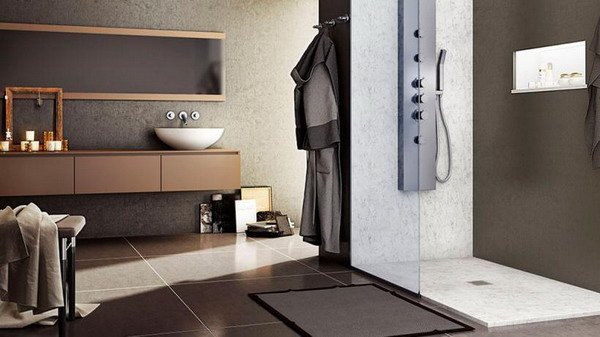 The 2024 bathroom trends opt for a decoration with colored tiles and high-design taps, among many other things, since the intention is to create spectacular spaces that are well cared for and with perfectly combined details.
In the bathroom, being one of the most important rooms in the house, bet on modern, quality and comfortable decoration. The aim is to incorporate stainless steel decorative elements, a range of neutral colors and furniture made from natural materials.
It is normal that over the years many bathrooms undergo renovations, since seeing and using the same bathroom day after day can become very boring and repetitive. The bathroom is a room that can become very outdated in a few years if you do not know how to choose the right style and finishes.
That's why if you're thinking of renovating your bathroom, you can't miss all the information that Isdecortrends is going to give you about the 2024 trends in bathroom decoration.
Elongated tiles, the bathroom trend for 2024 that you cannot miss
One of the latest notable trends in bathrooms is to use elongated and narrow tiles placed vertically. The elongated tiles with relief are revealed as a surprising bet in terms of coatings.
Elongated tiles can be placed vertically one on top of the other, to enhance the straight lines of the joints. This is a decorative trick that can be more affordable than the option of opting for the new design tiles that are not so cheap.
And it is that, despite the fact that these reliefs are natural and elegant, most of the time they are mixed with other smooth finishes to reduce their intensity and to make their design stand out, generating optical games for both sight and touch.
Neutral colors win the game over white
Gray tones, stone, sand or neutral colors are the ones that will now replace white for bathroom decoration. Using these tones, a warm and natural atmosphere will be achieved that will make the space exude luxury and relaxation.
Matte, raw and neutral colors will be the ones that are on the rise now, as they combine perfectly to give a more relaxed atmosphere to the bathroom. The choice of color will depend on the type of bathroom you have, for example for a small bathroom it is preferable that a bright color such as beige predominates, with some touches of dark brown that add an effect of depth and interest.
But for those more classic bathrooms, black and white are colors that will never go out of style, as they bring much more elegance to the design of this space. Without a doubt, the most fashionable color for the 2024 season will be gray, although if you are one of those who wants to be at the forefront, it is time to start incorporating green or blue in the bathroom through elements such as cabinets, paint and mosaic tiles.
The asymmetry in the furniture
Asymmetry in furniture consists of configuring spaces in an original and more random way in order to draw attention to the rest of the decoration in the space. In this way, visual games and light and shadow effects can be achieved.
We must take into account the space in an asymmetric bathroom so that it is not stuck between walls, preferably furniture that is suspended, with lacquered or wood finishes, and that is also functional, that is in keeping with the home and that reflects the personality of the owner.
Designer faucets
The choice of taps will depend on the style of the bathroom. If, for example, it is minimalist, it is best to opt for a very modern faucet so that it stands out from the rest of the bathroom. However, for vintage bathrooms, a classic design faucet will be chosen.
Gold – tone taps have been a trend for a long time and will continue to be in the top 5 of the most chosen colors for the 2024 season, providing glamor and contrast with natural materials. Matte or satin finishes will also be very popular this year.
Minimalism as a basis
Minimalist bathrooms have a calm atmosphere, thanks to their simple design and clean lines. The colors are often neutral like white, gray or beige, but you can also go for dark colors like black or brown.
A bathroom must be pleasant and welcoming, but it must also be functional and comfortable, which is why small bathrooms are perfect for achieving a minimalist style. In addition, they facilitate daily use because you only have what is most relevant, while keeping it simple and clear.
Bathroom lighting has changed and now the new trends bring stylish designs, typical of a living room or dining room, which raise the level of the room and give the space its own character.
To make it a modern bathroom, the key is to hide the lighting behind the mirror to create a modern aesthetic, ideally it should be led lighting. Designs incorporating this technology are more efficient. In addition, they pollute and spend less.
Bathroom mirrors have been one of those elements in which led lights have brought about a revolution. For example, backlit models offer warm and pleasant lighting in the bathroom, as well as creating a much more welcoming atmosphere.
Curvy bathroom
The movement in the bathrooms can appear on the walls, in the toilets, in the taps and in the mirrors and we can increasingly find more proposals with curves in the bathrooms that in 2024 will be a trend.
The geometry on walls is less typical, but they are becoming more and more fashionable in sinks, toilets or bathtubs. Also the storage furniture every day adopts more curved and fun shapes. The combination of straight lines with a curved finish is one of the best options if what you want to achieve is a harmonious environment in this room.
The wood comes back
A natural material that brings back the domain of nature in our homes is, without a doubt, wood. Wood is once again a part of the bathroom and makes it the main material for furniture, walls and floors, thanks to the new and innovative products suitable for this space in the house.
This material provides a warm and welcoming atmosphere to the room that, combined with white, gray or black, can recreate a Scandinavian look with clean design and elegant contrast.
Natural stone will also be one of the elements that will be present in the design of this area of the house and, moreover, it is a highly sought-after option for interior design in bathrooms around the world, since it recreates spaces inspired by nature.
Latest trend for 2024: the industrial style for the bathroom
Industrial design is on the rise and the use of cement, sandy or soft, will be a trend in the coming year, and not only on bathroom floors, but also on bathroom wall finishes.
But concrete can make a bathroom feel cold, so it's important to incorporate contrasting textures like wood, natural fibers, plush bath rugs, and towels, which will help soften the look and add comfort.
We want to inspire you and you can visit our website or our social networks to implement the ideas and proposals that we have shown you in this post.
The 2024 comes full of style and design, focusing on the small details without missing the functionality, comfort and elegance of this room. Your future bathroom is waiting for you to paint it in more daring colors, add movement or return to those classic styles that will never go out of style.