Furniture trends 2024: here are the new interior design trends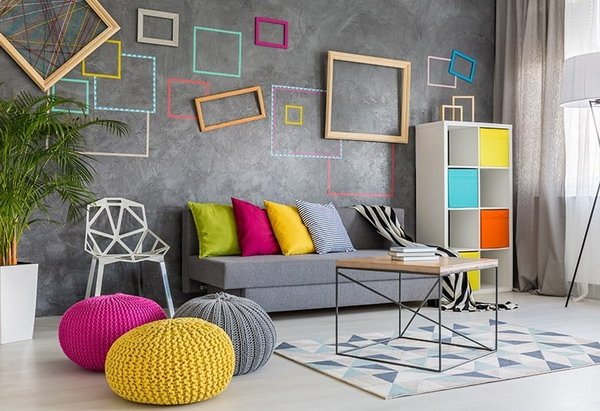 What will be the main furniture trends for 2024? The new year is now imminent and will bring with it new trends and new trends also in the field of interior design. So let's see what styles will be the most popular and the colors not to be missed to give a personal and fashionable touch to our home. In a nutshell, we can say that the ideas of comfort and sustainability will make a comeback ; our homes will become more than ever the place dedicated to relaxation but also to conviviality and the pleasure of being together.
A sustainable furniture
Sustainability will be at the center of 2024 furniture trends. This will be reflected in the choice of materials : wood, glass and stone will be the protagonists of our environments, since they are elegant, eco-sustainable and highly customizable. The natural elements will fit perfectly into a sober and minimalist style of furniture, very simple and elegant. If you like the rustic style you can then enrich your environment with materials such as rattan, wicker and wood, which will create an almost country house atmosphere but without sacrificing elegance. There will also be materials that wink at an idea of sustainability that is increasingly present also in our homes; in particular they will depopulaterecycled materials, with low environmental impact or from certified forests.
Trendy colors for 2024
The return to nature will also be noticeable in the choice of colors. 2024 will see the natural shades of blue, olive green, ocher, cinnamon and all the shades of cream, white and wood color spread in our homes. In short, warm and comfortable colors that will make our homes welcoming and relaxing, all to be enjoyed alone or in company.
Space is getting smarter
In recent months we have discovered or rediscovered the possibility of working from home and as a result even our homes have had to adapt and create ad hoc spaces for smart working. At least in the beginning we had to adapt to the situation, working on the kitchen table or sharing the children's desk. But now we can think of designing spaces where working from home is practical, comfortable and pleasant, even in the smallest houses. For example, we can focus on transformable tables, which with a single gesture rise and extend to offer us a comfortable position whenever we need it, on consoles that transform from trays into workstations, and on retractable desks, which magically appear only when we need them.
2024 furnishing trends for the living room
In the next year the living room will be confirmed as the real focal point of the house, an environment where you can relax, entertain friends and maybe have meals. Natural colors and materials will be the protagonists, but the real touch of class will be transforming it into a real urban jungle with lots of plants and maybe even with a themed wallpaper, even on just one wall. The sofa must be large and welcoming, the true protagonist of the room, surrounded by light bookcases and furnishing elements that do not weigh down the whole.
Furniture trends 2024, the kitchen
If you have enough space, 2024 will be the year of the kitchen with island or peninsula, which perhaps can unite different rooms in the house and perform different functions at the same time. So you can cook while chatting with friends or while the kids are doing their homework, for example. Also in this environment, a minimal style and natural and elegant materials will prevail, first of all glass, copper, bronze and steel. Wood will also play its part, giving our kitchen a warm and welcoming touch.
The 2024 trends for the bathroom
Functionality and harmony will be the keywords for furnishing the bathroom following the main 2024 trends in terms of interior design. In this environment, as is increasingly the case, you can relax and pamper yourself in a warm and natural atmosphere, created ad hoc by combining colors and materials. As for the shades, we can focus on the shades of green, brown, beige and white that recall nature. The materials to be preferred are undoubtedly wood, stone and even terracotta, with warm and relaxing shades. Some plants cannot be missing, carefully chosen and carefully arranged.
The 2024 furniture trends in the bedroom
What will the bedroom be like according to the 2024 furniture trends ? The space in which you sleep must be relaxing and comfortable, able to reconcile sleep in the evening and make us wake up on the right foot every morning. Colors and materials will therefore recall the hygge style and philosophy that comes from Denmark and that seeks comfort and well-being in simple things. The colors to be preferred will be soft and natural ones such as beige, sand, gray and powder-coloured, while among the materials wood cannot be missing, in both light and dark versions.
Have you decided which of these 2024 furniture trends is for you? If in doubt, we at Interia Living will be happy to help you design your rooms!