The Best Colors and Trends in Bedroom Interior Design 2022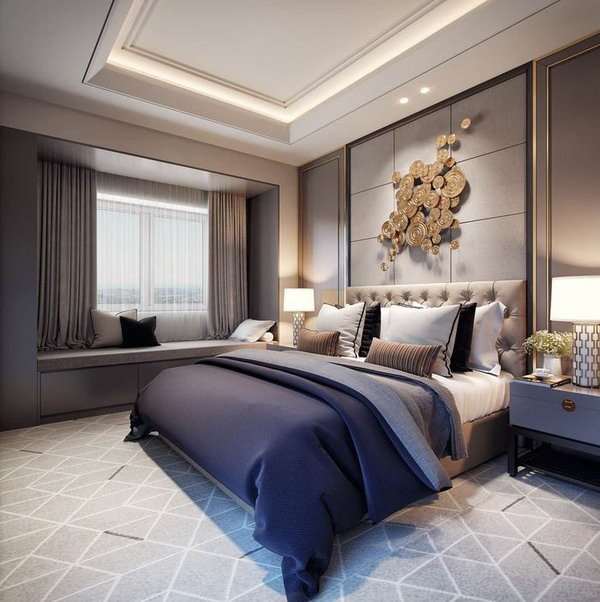 Bedroom interior design trends in 2022 are spaces designed with the comfort of their users in mind. Pastel colors, references to nature, silence, peace, relaxation…
The bedroom trends 2022 will give you a moment of respite from the hustle and bustle of the world and the troubles of last season. In this article, we will show you the most fashionable bedroom colors, present the hottest design and decoration trends that no bedroom interior can do without in 2022!
Cozy and comfortable
Bedrooms in 2022 should be filled with soft colors, soft shapes, natural materials and enveloping fabrics. The goal will be to create a calm atmosphere while maintaining a fairly large amount of free space – comfort, yes, no cramped! Owners and owners of small interiors will appreciate the versatility fashionable this season. When completing equipment, you should turn to recyclable items – furniture from pallets will perfectly fit into the decor of the bedroom in 2022.
Wall decorations will also be a very important element of a trendy bedroom. Patterned wallpaper, wood paneling and stone will make a splash. If you don't want to do a major renovation, you can decorate the walls with a composition of graphics, photographs, macrame, dream catchers or flower pots. Most importantly, the bedroom is characterized by individualism – after all, this is the most personal space in the whole house.
Relaxing pastels
The trendy wall tones in the bedroom in 2022 are predominantly pastel colors. White, beige and gray are constantly present in all arrangements of the coming months. This is good news because these colors are soothing, soothing and relaxing – so they are perfect for a room to relax in.
However, this does not mean that there is no room for other colors in the palettes prepared by the designers. Popular colors for the bedroom in 2022 will also be the colors of delicate colors: powdery pink, yellow, blue and soft green. Wood colors will also be very popular – dark, golden and rusty.
The philosophy of Scandinavian furnishing is based on two pillars – simplicity and hygge, that is, the feeling of comfort and coziness. Sounds like the perfect bedroom lamp recipe, doesn't it? The most luxurious bedrooms of 2022 will be kept in an economical Scandinavian style with an admixture of Japanese trends – the so-called japandi. If you want to use these ideas, remember the following rules:
Use beige, gray, blue and white colors. It is best to choose one color and combine different shades, adding small elements of other colors. Bright colors reflect light, making the room look bigger and brighter.
Introduce wood – preferably in the form of floorboards or wall panels. If you have a loft bedroom, 2022 is the best time to showcase a wooden entablature. Also, do not forget about wooden furniture – bright, light, with slightly rounded shapes.
Choose natural materials. Find bedding, bedspreads, rugs and pillows made from wool, cotton and linen. Choose some inexpensive ceramic, wood, or glass trinkets.
Bedroom trends in 2022 – sunny boho
Do you appreciate naturalness and simplicity, but also like a little exotic or a hint of folklore? We have good news, the boho style will continue to be at its best in the coming season. Extravagant boho inspiration will be softened by combining it with the Scandinavian style – the result is a slightly more relaxed boho-scandi. How do you decorate your bedroom with this trend?
White is best for walls; you can try pastel gray or sandy beige. Add furniture and accessories to such a base in warm, but muted shades – golden beige, peach, powdery pink, slaked mustard, caramel brown will do.
A trendy boho bedroom in 2022 cannot do without light wooden cabinets and wicker chairs, poufs and baskets. Place woven rugs on the floor and hang macrame on the wall above the bed. Boho style loves nature – to express it, decorate your bedroom with plants! Place them in ceramic pots, seaweed or wicker shells, or hang them on macrame beds.
Modern rustic style
Traditional rustic variations include massive furniture, antiques, handicrafts, rustic motifs… They will be mixed with modern shapes in the coming year! How to implement this trend in the bedroom?
What color to choose for a 2022 rustic bedroom? White, beige or gray. A little brown – chocolate or caramel shade will also be helpful.
A bet on a small amount of furniture. They should be made of wood or metal and have simple functional shapes. You can break a pallet bed. It is important that the equipment does not overload the room – furniture can be large and durable, but do not overdo it with its quantity.
Cover the wall above the bed with wood paneling or stone. You can also decorate it with artificial horns or a composition of dry branches and plants.
Elegant 2022 bedroom – in Art Deco splendor
The coming year in interior design is not only minimalism. The other side of the coin is the Art Deco style, which promotes elegance – of course, with a modern twist. How to use it in a trendy bedroom in 2022?
Combine muted colors with vibrant extravagant colors. When creating a base, use mainly white, beige, gray, powdery pink and black. Pair these classic shades with azure blue, emerald green and precious gold.
While geometric decorations can be associated with strict order, their goal is to add lightness to the interior, for example, vertical patterns on the wallpaper above the bed will make the bedroom look taller. Geometric patterns don't necessarily mean sharp edges – round and oval shapes dominate bedroom designs in 2022. Add round mirrors, poufs and oval-shaped armchairs or rounded pillows to your Art Deco bedroom.
Velvet works best with oval shapes! Imagine it in the bedroom as a material covering furniture or designer accessories – beds and armchairs upholstered in velvet shades of vegetable green, floral pink or sea blue will look great.
2022 popular bedroom accessories – wall decorations
The coming year will be marked by an eclectic mix of styles – in one room, you can play with colors, shapes and combine different cultures and eras. Do different interior design ideas have something in common? What can't be a trendy 2022 bedroom?
Wallpaper – floral, plant-animal, abstract and geometric patterns… Wallpaper is like makeup on the walls. If you don't want to line up your entire bedroom with them, at least place them on the wall above the bed, making it the focal point of the decor.
Wall Panels – Ideal for wall mounting above the bed. They can be made of PVC and imitate stone, brick or concrete. However, in 2022, warm wood cladding will be the most fashionable. Next year, the classic bedside lamps will be replaced by shining lamps hanging over the bed. They will look best in a group, each at a different height.
The dominant passion for nature in the coming season is the bull's eye when it comes to furnishing the bedroom. Soft colors, minimalism stemming from environmental trends, the use of environmentally friendly materials and green plants in the interior will contribute to relaxation and a night's rest. The trendy 2022 bedroom has other facets as well – elegant, eclectic, boho or vintage. Which one will you choose?