How to decorate your 2022 Christmas tree?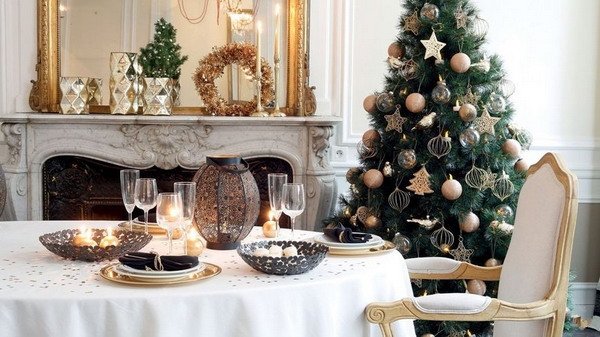 What a perfect Christmas tree should look like. How to decorate a Christmas tree in 2022? Each house has its own Christmas tree. Some prefer a live tree, others an artificial tree that can be used every year. Some modestly decorate Christmas trees, hanging only dried oranges and gingerbread, others decorate Christmas trees with shiny balls, pendants and lamps. Christmas trees are silver-white, golden-red, or blue-red, spontaneously dressed Christmas trees with no particular style. What should a fashionable Christmas tree look like in the 2022/2023 season? This year you have a lot of freedom in your choice of color and style of decoration. A trendy Christmas tree can be modest, ornate, or cheerfully colorful. Here are the most interesting Christmas trees for the end of 2022 – take a closer look at them! We dedicate this article to the trendiest Christmas trees of 2022.
It's easy to get lost in the sea of ​​decorations that manufacturers offer every season. Multicolored trinkets and chains, shiny pendants and garlands, shimmering ribbons and bows, porcelain angels and deer, golden stars and silver icicles – the choice is huge, so you should think in advance how to decorate the tree so as not to overload it with decorations. Here are the most popular Christmas trees:
2023 Christmas trees – simplicity is power
First of all, think about choosing the tree itself. If you are still in doubt about whether to buy a living tree or a plastic tree, be sure to choose the first solution. A natural tree not only looks beautiful and smells great, but is also more environmentally friendly. Most of the trees sold are grown on special plantations and felled without harm to the environment. .A living tree is a decoration in itself. In 2022, it is worth limiting the amount of jewelry and exposing the natural beauty of the tree. If you want to celebrate eco, you can completely abandon decorations or decorate the tree with only white lights. In Scandinavian or rustic interiors, the tree will look beautiful without decorations. However, it should be placed in a large wicker basket.
Simple jewelry made from natural materials also fits in with current trends. In the 2022/2023 season, Christmas trees will be fashionable, decorated with decorations made of paper and cardboard, wood, glass, lace or dried fruits. Decor should be in natural, calm colors such as white, brown and beige. If the tree seems boring to you, add some decorations in a brighter color, for example, the classic red shade.
How to decorate a Christmas tree in 2023? – soft glamorous style
Do you like to celebrate in style? We have good news for you! Richly decorated Christmas trees with gold decorations and baubles in dark, rich colors will continue to be in vogue in 2022. Your Christmas tree may have decorations in shades of emerald green, bottle green, amber, burgundy, or the proclaimed color of 2022 – dark blue.
Fashionable Christmas tree decorations of the season 2022/2023 delight not only with colors, but also with an interesting shape and texture. The trend is now dominated by velvet translucent baubles filled with golden confetti and covered with sparkles. Silver or gold baubles are a real hit as they reflect the light of the lamps beautifully. If you want to decorate the tree in an interesting but tasteful way, take one of them.
Christmas tree trends for 2023 – vintage Christmas tree
Vintage jewelry is not to be missed on the list of trendy New Year decorations for 2023. More and more people are returning to the long tradition and hanging colorful balls, paper chains, dried fruits and sweets on the tree. A vintage Christmas tree is not overly dainty, but it brings a smile and a lot of fond memories. Feel free to choose this solution if you like to play with color and a joyful eclecticism reigns in your home.
The vintage Christmas tree has room for old knickknacks, handmade ornaments, and newly purchased Christmas tree decorations. In 2022, blown glass baubles will be especially fashionable – in the form of animals, snowmen, angels, as well as ordinary objects that reflect the tastes of households. Do you love photography? You can hang a cute mini camera on the tree. Do you have a weakness for good perfumes? Decorate the tree with Christmas balls in the form of stylish bottles.
Fabulous New Year Home Decor Ideas 2023
How to decorate a Christmas tree? Trendy Christmas tree decorations for 2022/2023
Gold-colored jewelry will be a real hit in 2022. How to use them so as not to overdo it? Gold ornaments should be a subtle decoration for the Christmas tree. Instead of shading the tree, they should delicately highlight its beauty. So give up decorating the Christmas tree with only shiny balls, and of poor quality. Much better would be a combination of gold with ornaments of a different color, for example, white, dark blue or dark green.
Gold Christmas tree decorations, contrary to their appearance, are very versatile. You can use them successfully to decorate your Christmas tree in a modern, rustic and traditional style. If you love safe classics, choose baubles with delicate gold patterns or completely smooth ones. Do you prefer glamor, play with decor and daring decisions? You will definitely love jewelry covered in sequins, filled with golden confetti, or covered in soft velvet. In addition to trinkets, you can hang metal decorations such as golden bells, stars and figurines on the tree.
Trendy colors of Christmas trees 2022/2023 – rich and natural
Colors of the earth in the Christmas trees of the 2022/2023 season
More and more jewelry in natural colors, such as beige or brown, appears in the store. You can take advantage of this trend by decorating your Christmas tree in a natural style. Bright baubles will also be a great backdrop for brightly colored jewelry.
Dark green is still trendy on the Christmas tree in 2022/2023
In 2022, green will continue to be trendy on the tree, especially its darker shades. Christmas balls in this color look best with gold ornaments, as well as neutral whites and beige. Use this combination if you value timeless elegance and classics.
How to decorate a Christmas tree? Dark blue on the 2022/2023 Christmas tree
In the list of fashionable colors of Christmas trees, dark blue occupies an important place. Dark shades of blue are in perfect harmony with gold, as well as bluish gray or blue. A popular solution is a combination of blue and white. Remember that this combination looks very presentable, but also brings the impression of austerity and coldness into the interior.
How to decorate a silver-white Christmas tree?
White and Silver on the Christmas Tree is the most successful duo over the years. Decorated in this way, the tree resembles a winter tree, strewn with snowflakes and ice crystals.
Creating a silver-white Christmas tree is relatively simple and quite economical. Choose large white baubles with silver decorations that will shine in the company of the tree lighting. Hang silver garlands and chains on the tree, as well as white porcelain ornaments – angels and hearts. Do not skip the transparent decorations (such as crystal stars or glass icicles), which additionally illuminate the tree and give it lightness. You can decorate the whole tree with artificial snow from a special spray can or use fluffy cotton wool that can be spread along the branches, as it looks like real snow. You can add a third color to the silver-white tree to bring the tree to life. It can be turquoise in the form of small trinkets or small red accents (like burgundy bows or garlands).
How to decorate a golden and white Christmas tree
AChristmas tree in gold and white tones is an elegant New Year's decoration that will suit interiors decorated in different styles. The golden and white Christmas tree is very attractive and aesthetically pleasing, and at the same time easy to make. It is enough to hang simple white decorations on the tree – baubles, figurines, pendants and icicles.
In an economical way, you can imagine a golden color using single-color yellow lamps, which from a distance will resemble a golden flame. If you want a richly decorated Christmas tree, hang gold glittering decorations – larger baubles, garlands, gilded artificial apples or bows. The golden tree can be sprayed with a decorative glitter spray that will brighten it up with a gentle glowing mist.
Christmas tree in gold
Gold is one of the most important colors of the December holidays. A Christmas tree in gold is a spectacular decoration in the living room. If you care about a bright New Year's accent in your interior, then decorate the tree with golden-amber color, and this will certainly create a festive, warm atmosphere.
How to dress up a golden Christmas tree? In the case of plain Christmas trees, decorating is simple. Collect all the golden Christmas tree decorations – shiny rain, amber pendants and figurines, golden angel hair, light brown chains and garlands, bows and honey-colored artificial flowers.
How many decorations you hang on the tree depends on the desired effect. A more modest tree in golden yellow tones will only need a few trinkets, a golden garland and yellow lights. If you want a richly decorated Christmas tree, hang as many gold ornaments as you can, trying to cover the green branches of the tree.
Red and gold Christmas tree
The golden Christmas tree is beautifully complemented by red, especially in the shade of royal burgundy. Together they form the most distinctive combination of Christmas, associated in large part with American vacations abroad.
Red and gold trees look great. Both colors complement each other and go well with each other. Typically, gold is the backdrop for red, so it's best to decorate the tree with yellow first. To do this, choose gold garlands and chains, angel hair and yellow highlight. The next step is to introduce a second color, that is, red, in the form of larger trinkets, figurines, bows or artificial flowers.
How to decorate a 2023 silver Christmas tree
The massive silver Christmas tree will resemble a frozen tree from the land of ice. Therefore, it is worth hanging on it all the decorations resembling stars, icicles and snowflakes in shape. Choose silver jewelry with decorative crystals, sequins and glitter. They will make the tree sparkle and shine gently.
What else should be on a silver tree? Inspiration – mirrored baubles, glass pendants, chains and garlands, bows, artificial flowers and silver apples. Shimmering silver can be softened with matte gray jewelry. These can be hearts, figurines of angels or deer in a bluish-gray shade.
Red and silver Christmas tree
Red is one of the most important colors of Christmas. It goes well with both gold and silver. The red and silver Christmas tree is a classic and timeless Christmas decoration that will go well with both modern and rustic interiors.
Decorating a silver and red Christmas tree is based on the same principles as decorating a gold and red Christmas tree. First, hang up all the silver and gray decorations that will create the backdrop for the characteristic red color. Then, at regular intervals, place the red elements that will animate the silver. These can be burgundy baubles or porcelain pendants, bows or artificial flowers.
Red Christmas tree
Plain Christmas trees are an easy way to create a harmonious and aesthetic decoration for Christmas. Decorated with red decorations, the Christmas tree will create a warm home atmosphere that will suit any interior style. What red jewelry to choose? Use large red balls, artificial flowers, ribbons and bows. Try not to overload such a tree with decorations. The natural green color of the tree is combined with the red color, so in such a tree, even gaps between decorations are desirable.
Gold and silver tree
The combination of such expressive colors on a Christmas tree can seem risky. However, this is a proven way to create a beautiful, luxurious Christmas tree. If you want to emphasize the festive character of Christmas, decorate the tree this way.
How to decorate a Christmas tree made of silver and gold? The tree will look best if you completely cover it with various gold and silver ornaments. Elegant colors associated with luxury and dignity are the perfect duo for Christmas. Experiment with different pieces of jewelry, opting for glittery and non-glitter matte. The principle of decorating a silver-gold Christmas tree: the more, the better.
How to decorate a pink Christmas tree
An interesting inspiration for Christmas is decorating the tree in pink. Christmas tree trends for 2022 herald the return of pink. It is a complex color, but if applied skillfully, it will have a unique effect. First of all, choose muted powdery shades that go well with the natural green of the needles. To give the tree a uniform and understated look, combine pink ornaments with similarly toned ornaments. Shades of red, burgundy and beige will be a reliable choice. This wood is especially well suited to interiors decorated in a romantic style, shabby chic or rustic style. How to dress up a Christmas tree in pink? Choose baubles and chains in that color. An interesting idea would also be to use artificial flowers that will replace traditional Christmas tree decorations.
How to decorate a colorful Christmas tree
An alternative to a one- or two-color Christmas tree is a multi-colored Christmas tree. Their undoubted advantages are a relaxed style and the absence of imposed rules in the decor. These trees are most often worn by the whole family. All family members are doing the decoration together, placing their favorite Christmas tree decorations. Need inspiration? The tree can contain single baubles from different sets, random porcelain figurines, sweets, toys, pine cones, chains of different colors, gingerbread cookies, glass decorations, and paper decorations, cut by the smallest ones.
Decorating a Christmas tree is the most enjoyable activity for many people at Christmas. Some people make every effort to ensure that the tree is designed in a certain style and colors. Most often, Christmas trees are dressed in gold, silver, red, or they mix these colors, getting interesting compositions. Despite these trends, colorful Christmas trees are still very popular. As a rule, they are decorated with the whole family, so the final effect is always a pleasant surprise.